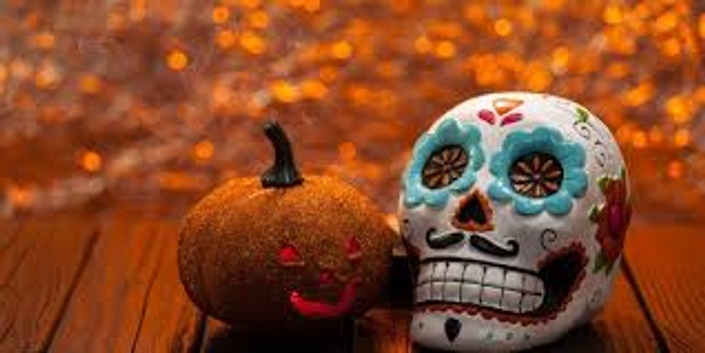 Spanish Games: Halloween & Day of the Dead
Just download PDF & start learning from home through interactive games & other fun activities. Off screen. Spanish audio provided!
Watch Promo
This course is a super fun way to learn about Halloween & Day of the Dead while mastering the target language... Spanish!
Once you sign up, you get access to 16 pages of OFF SCREEN content and a video created by Ms Denise where you can hear and practice the pronunciation of the target vocabulary used in all of the activities provided.
Some of the content provided in this course includes:
1. An original bilingual book from Lingua Garden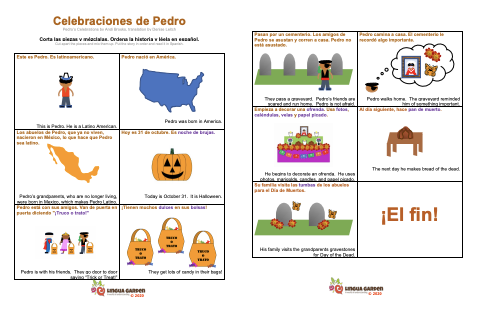 2. A Spanish Bingo (audio provided)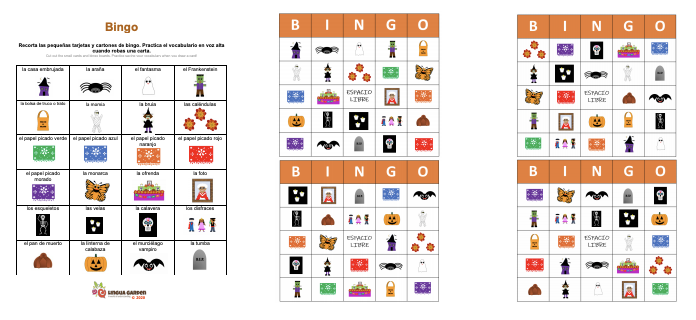 3. A Spanish Crossword & Matching Games for both celebrations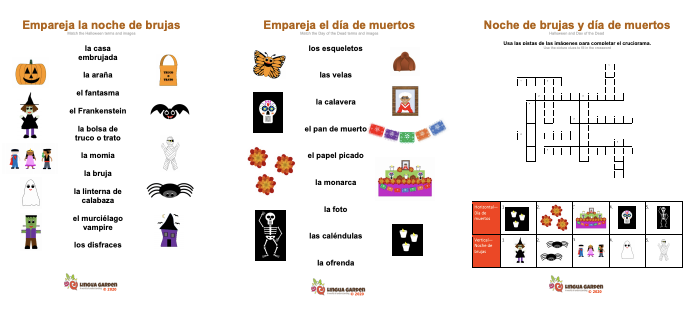 4. Cultural activities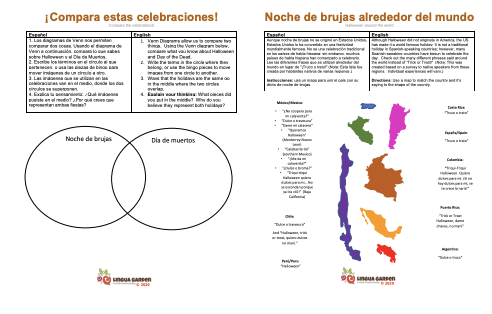 5. And other fun bilingual games!
Edit

Want more information?
This course is divided in the following sections & contains the following content:
Course Curriculum
¡Bienvenidos! Welcome!
Available in days
days after you enroll
Frequently Asked Questions
When do I get access to the content presented in the course?
You get access to all the content as soon as you purchase the course.
How can I access the 16 pages, PDF?
Enroll in course, download the content, and print. That simple!
Who created & developed this online course?
Ms Denise & Ms Andi. Read more about these two educators below: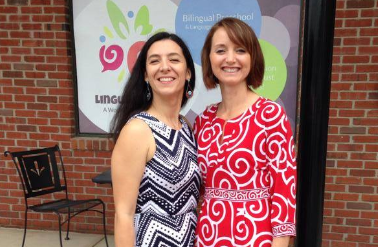 About Andi Brooks (Educational Content Writer)
Andi Brooks has over a decade of teaching experience spanning from preschool to college age students.
Her Master's Degree in English, combined with her love of all things cultural, historical, artistic, kinesthetic, and diverse, landed her a role at Lingua Garden.
After serving two years as Assistant Director of our physical location, she moved with her family to South Dakota. There she continued work as an English teacher and is now a K-12 Curriculum Specialist for her public school district. She continues to serve as a content writer and other "behind the scenes" roles for Lingua Garden.
About Denise Leitch (Foreign language instructor. Bilingual mom.)
"I am a devoted mother of two and a passionate educator and entrepreneur who specializes in early childhood and elementary foreign language education. Most importantly, I just love what I do. Being an early childhood foreign language instructor and a business owner is one of the most rewarding things I have ever done, other than being a mother… luckily for me, I happen to be both!

I was born in Chile and moved to the United States during my senior year of High School. I attended Bradley University and focused my studies on early childhood education, cognitive and social psychology, child brain development, and art.

I realized that by combining my love for nurturing children with my passion for learning about new cultures, I could reach students in a way that went above and beyond ordinary language learning.

For the last 16 years I have owned, directed, and taught at Lingua Garden where I offer foreign language lessons nationwide (online classes and local families in Boulder, CO) to children and adults. I have dedicated my time to teaching Spanish & French, creating new and exciting foreign language curricula, training new teachers, developing foreign language educational software, and most importantly, spending quality time with my family.

Currently, professionally, I devote my time to develop engaging curriculum, teach online lessons to children from all over the country, teach local private/small group lessons, lead and facilitate conferences, workshops, & training for early childhood educators, nursing students and homeschooling families nationwide. When I am not working, I enjoy spending quality time with my husband & kids who are being raised bilingual and multicultural."