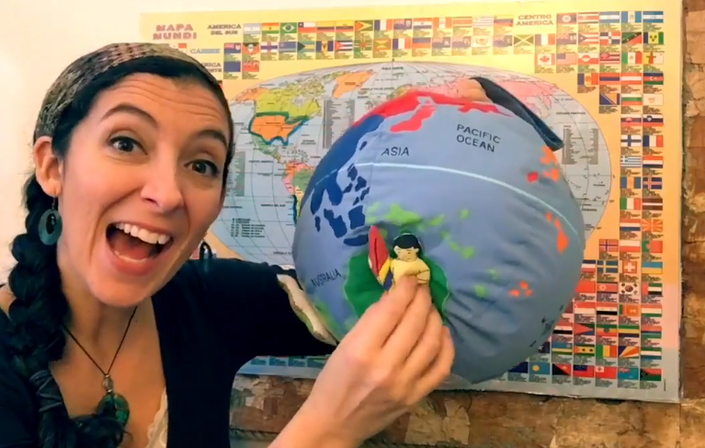 LINGO
Learn SPANISH from HOME! This is a fun monthly, self-guided, interdisciplinary Spanish supplement for grades 3-6; Adult-guided for younger learners.
LINGO is a super fun way to learn about other cultures while mastering the target language... Spanish!
LINGO is a monthly "bingo" calendar that encourages self-sufficient, interdisciplinary Spanish learning targeted for learners grade 3-6, or as an adult-guided curriculum for younger learners.
The game board has 25 activities and will always include:
Brand new videos from Ms Denise geared toward older elementary-aged students
An original book from Lingua Garden (printable)
Spanish Word Search and Crossword
Scavenger Hunt
Short, effective quizzes to review content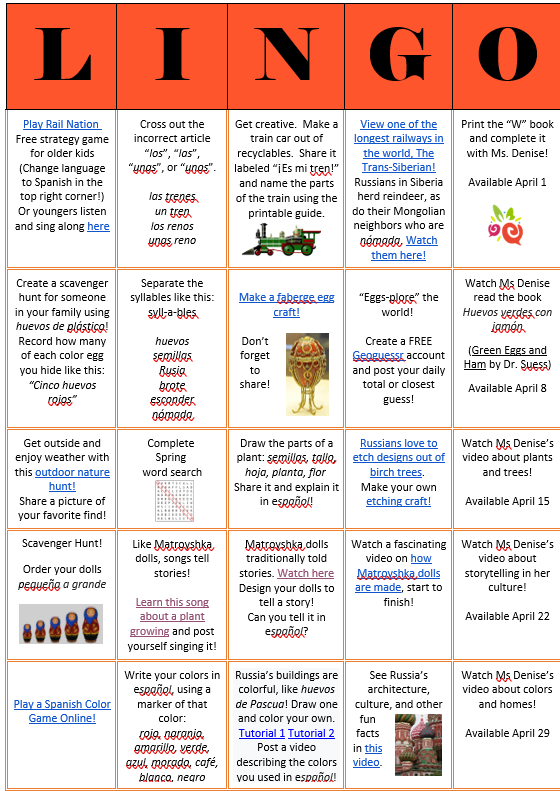 LINGO Details
Vertically, these activities include:
L ~ los videos (the videos)
I ~ idioma (language)
N ~ nuevo (make something new)
G ~ geografía (geography related)
O ~ juegos "o" rompecabezas (games "or" puzzles)
Horizontally, each line has a unified theme, related to a specific country or region.
Each month presents new fun & exciting content!
What happens if your student earns a LINGO?
Students work to complete a black-out during the month and will post their black-out and along with other students. If enough students post for that month (Ms. Denise will announce the goal for that month) students can unlock a special challenge for Ms. Denise to complete LIVE!
Follow Lingua Garden's Facebook Page and Instagram page to make sure you don't miss the first chance to vote on her first LIVE desafío (challenge)! They are all based on the month's theme!
Watch past reward videos here.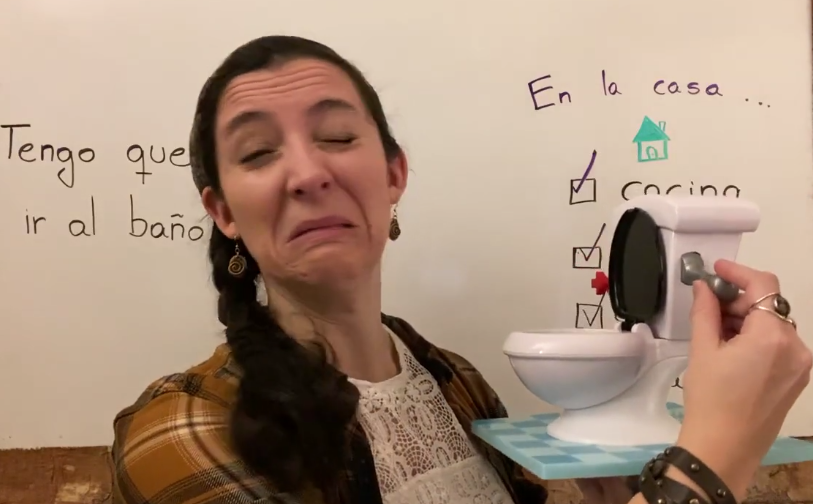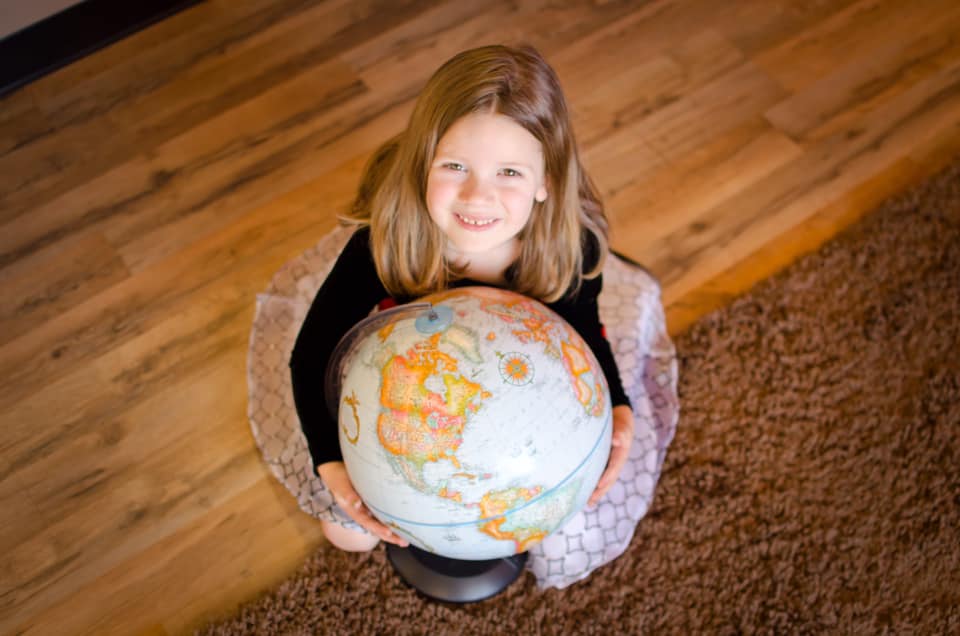 Share progress with other learners!
LINGO encourages students to create their own learning community. The goal is to not only complete the given activity, but to share their learning with other Spanish learners their age.
Get ideas and learn from one another!
Only students or parents of students will be allowed to join our exclusive "LINGO Amigos" Facebook account.
You are always welcome to share to our Lingua Garden Facebook or Instagram as well! #LINGO

What are the expectations for adults?

For kids in grades 3-6 who have some Spanish experience, all adults will need to do is follow the 4 simple steps listed below. For younger learners, adults may need to provide guidance for each activity.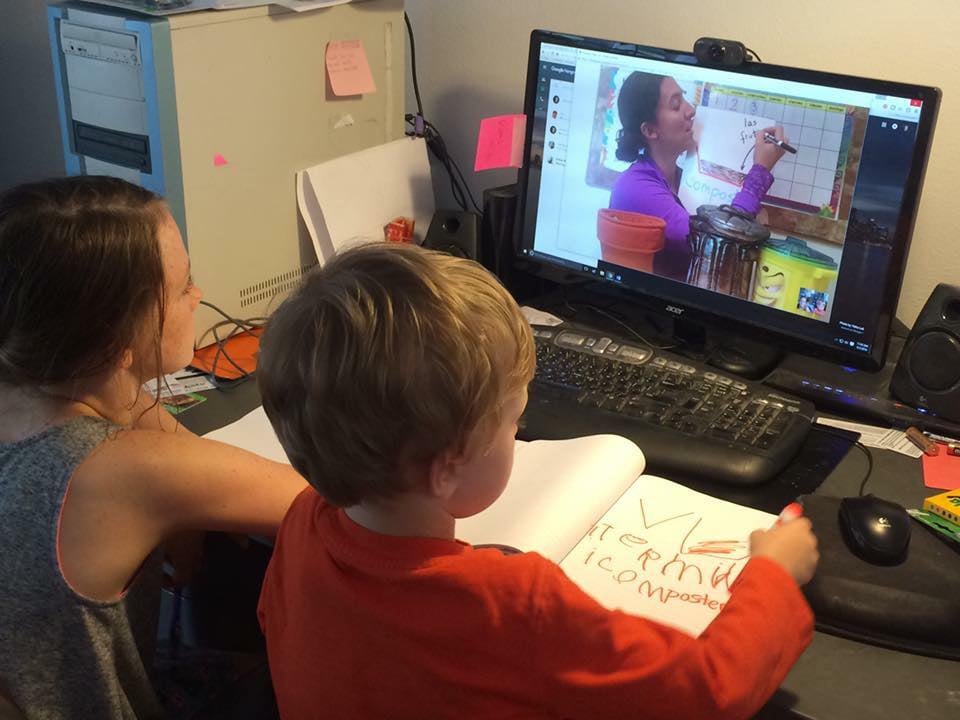 Directions for Adults:
1. Print the "LINGO ACTIVITIES" PDF . Remove the scavenger hunt page before giving pages to your student.
2. Choose a date to set up the scavenger hunt for your student to accomplish this activity.
3. Monthly letter book: Cut apart and staple the pages book.
4. Sharing your accomplishments: Please remember to encourage your student to post their progress or you can post it yourself! You can do so in Lingua Garden's private group designed just for you called LINGO amigos. Click HERE to join!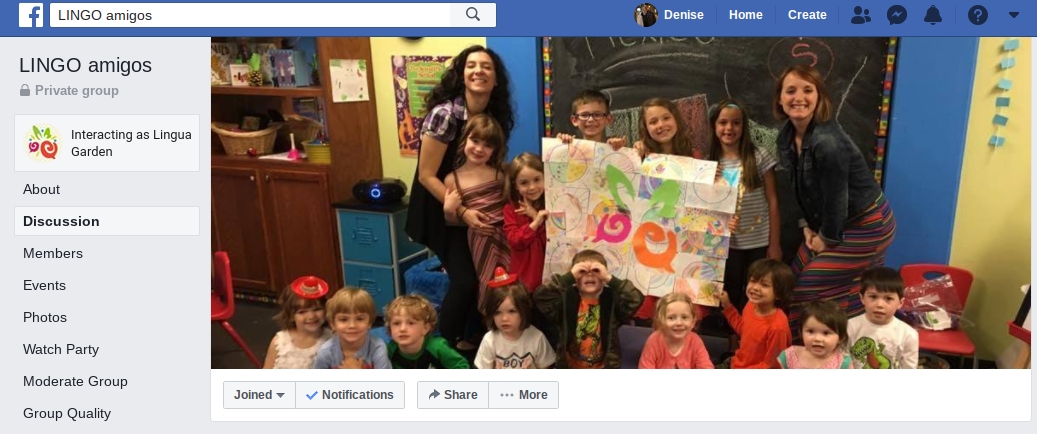 Frequently Asked Questions
When does the course start and finish?
The course starts now and never ends! It is a completely self-paced online course - you decide when you start and when you finish. Those who want to help earn a challenge for Ms Denise will want to finish the board by the end of each month. PLEASE NOTE: each month's content expires after 60 days.
How long do I have access to the course?
After enrolling, you have unlimited access to this course across any and all devices you own. The monthly content expires after 60 days, for example, by April 1st, April LINGO content becomes available & by May 31st, April LINGO content expires.
Who created & developed this online course?
Ms Denise & Ms Andi. Read more about these two educators below: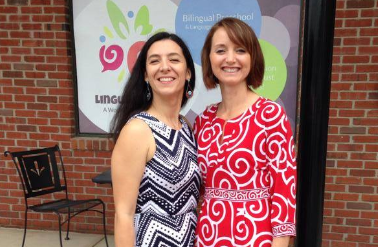 About Andi Brooks (Educational Content Writer)
Andi Brooks has over a decade of teaching experience spanning from preschool to college age students.
Her Master's Degree in English, combined with her love of all things cultural, historical, artistic, kinesthetic, and diverse, landed her a role at Lingua Garden.
After serving two years as Assistant Director of our physical location, she moved with her family to South Dakota. There she continued work as an English teacher and is now a K-12 Curriculum Specialist for her public school district. She continues to serve as a content writer and other "behind the scenes" roles for Lingua Garden.
About Denise Leitch (Foreign language instructor. Bilingual mom.)
"I am a devoted mother of two and a passionate educator and entrepreneur who specializes in early childhood and elementary foreign language education. Most importantly, I just love what I do. Being an early childhood foreign language instructor and a business owner is one of the most rewarding things I have ever done, other than being a mother… luckily for me, I happen to be both!

I was born in Chile and moved to the United States during my senior year of High School. I attended Bradley University and focused my studies on early childhood education, cognitive and social psychology, child brain development, and art.

I realized that by combining my love for nurturing children with my passion for learning about new cultures, I could reach students in a way that went above and beyond ordinary language learning.

For the last 16 years I have owned, directed, and taught at Lingua Garden where I offer foreign language lessons nationwide (online classes and local families in Boulder, CO) to children and adults. I have dedicated my time to teaching Spanish & French, creating new and exciting foreign language curricula, training new teachers, developing foreign language educational software, and most importantly, spending quality time with my family.

Currently, professionally, I devote my time to develop engaging curriculum, teach online lessons to children from all over the country, teach local private/small group lessons, lead and facilitate conferences, workshops, & training for early childhood educators, nursing students and homeschooling families nationwide. When I am not working, I enjoy spending quality time with my husband & kids who are being raised bilingual and multicultural."